If you like manifesting stories that are almost hard to believe they are so unlikely, you will love this one!
Back on Memorial Day weekend, my 10-year-old son Jesse and I attended an event called Family Board Meetings. At the event Jesse made his first vision board. It was filled with images of his favorite YouTube stars.
We talked about how to turn your dreams into reality:
First you dream it and make it really specific like he did in this picture. (Those stick figure like things are all the YouTubers he wants to meet.)

Then you begin to feel and act like someone who already has that result.

And then you watch as the result appears before your eyes as if by magic… Because… well that's how magic works.
I was excited for Jesse to learn this secret of the universe, but I had no idea just how magically it would unfold.
After his vision board was folded up and put aside, Jesse continued to act like someone who hangs out with his heroes. He began growing his own YouTube channel and working with a mentor – Michael Buckley, an original YouTube partner, and genuine YouTube star with over 1,000,000 subscribers – to help Jesse to improve his skills. (You can subscribe to his channel here btw: https://www.youtube.com/channel/UCaW3-GixwBNa957EbLRLdEA)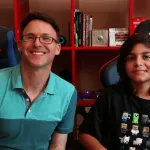 Jesse has been focusing on having fun, and whenever it doesn't feel fun, we pull back and reassess. And when that got hard, we even hired Steph Gold as his life coach to manage the anxiety of running a business at 10 years old!
He partnered with his mentor to create a digital tutorial program for kids of entrepreneurs called "Become a YouTuber" and he's preparing to launch the product from a MineCraft convention we are attending in California in a couple of weeks.
When you think about it, he really has been acting just like someone who would hang out with famous YouTubers.
One of his business tasks is it watch, like and comment on videos from the YouTubers he wants to meet. You know, the ones from his vision board.
So maybe we shouldn't have been surprised that while Jesse was doing that the Sunday before Labor Day he noticed something weird. His favorite YouTuber, Evan Era was filming a video…. INSIDE OF OUR HOUSE!!!! What the what???? Why was a famous stranger in my house?
We didn't know how the guy got in or what he was doing there but it was definitely our house.
We've had a friend staying there since we moved to The Author Castle. We called the friend but he wasn't around. Went to the house… Empty. So Jesse messaged the guy on Twitter and guess what? He was elementary school friends with our tenant. The next morning – on Labor Day – the summer sandwich to Memorial Day, the vision from his board had come true, in possibly the most unexpected way imaginable! If Jesse hadn't seen the video that same day – of all the millions of videos on YouTube – he never would have gotten to meet Evan.
After they met, Jesse interviewed Evan for his YouTube Channel sporting Evan's trademark sunglasses. You can watch the interview here: https://youtu.be/5aDcseggP20
Now I know you might not be interested in Jesse's interview's with famous YouTubers, but here's the deal, if you know a kid who is, say between 8 and 14 years old, can you do me a favor and send them this link and ask them to subscribe to Jesse's channel?
(You can subscribe to his channel here btw: https://www.youtube.com/channel/UCaW3-GixwBNa957EbLRLdEA)
He is manifesting 1,000 subscribers in 30 days and clearly he's a kid who can make things happen. I know he would appreciate your help subscribing and sharing his YouTube Channel. He has a few other interviews booked and who knows who we might find driving our car or eating our porridge that he can interview!
Happy Manifesting!